Turkish Phrases and Vocabulary Relating to Marriage and Wedding
In Turkey, weddings are very popular at any time of the year. If you even live a for period of time in Turkey, you may have to visit the weddings. Learning essential Turkish phrases and vocabulary relating to marriage and Wedding will be definitely helpful for you in Turkey.
Especially before the summer comes and go the Turkish weddings , you should be ready with Wedding phrases and vocabularies.
Wedding and Marriage Turkish Vocabulary
It is highly suggested to look over the related Turkish vocabulary with wedding and Marriage before you move onto study the phrases.
Evlilik : Marriage
Düğün : Wedding
Evlilik teklifi : Marriage proposal
Gelin : Broom
Damat : Broom
Nişan : Engagement
Nişanlı : Fiance
Saat ve Tarih : Date and Time
Düğün pastası : Wedding cake
Teklif etmek : to propose
Gelinlik : Wedding dress
Yüzük : Ring
Balayı : Honeymoon
Düğün davetiyesi : Wedding invitation
Hediye : Gift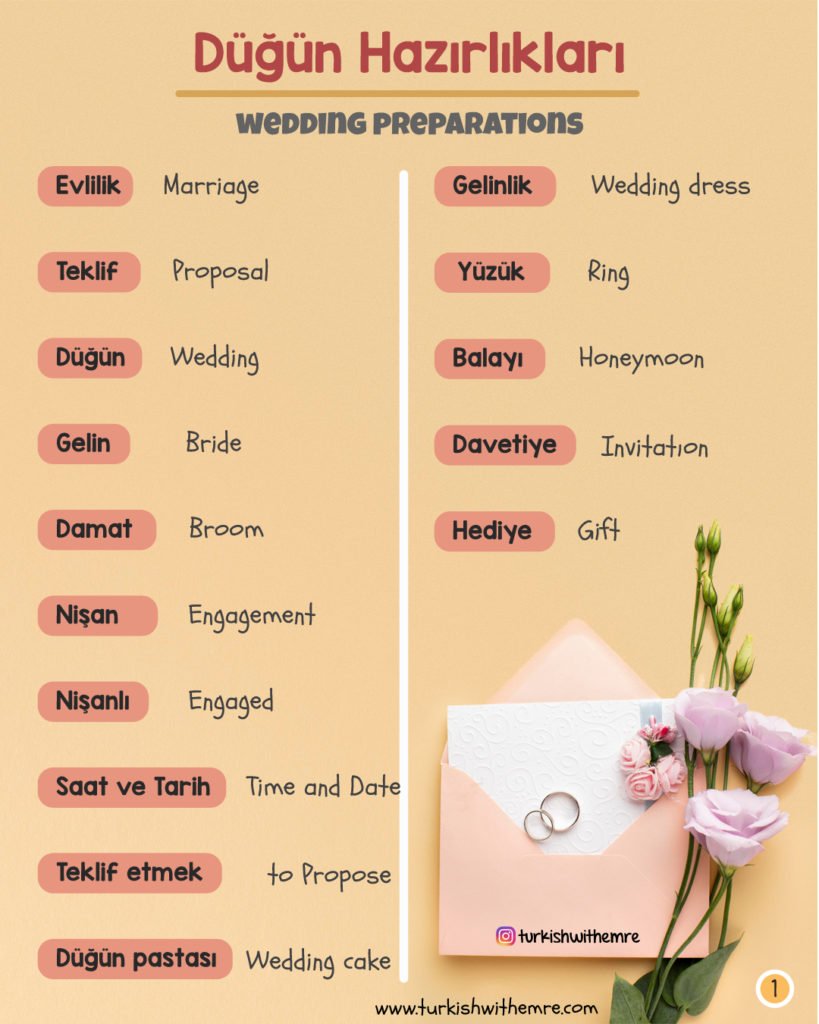 Wedding and Marriage Turkish Phrases
Here is the essential phrases for talking about weddings and marriage in Turkish. You will hear these sentences during summer a lot.
Düğünün ne zaman ?

When is your wedding ?
Düğün nerede olacak?

Where will the wedding take place ?
Düğünüme gelir misin ?

Will you come to my wedding ?
Düğünüme davetlisin.

You are invited to my wedding.
Evleniyorum.

I am getting married.
Ne zaman evleneceksiniz ?
When are you going to

get married

?
Gelin ve damat kim ?

Who are bride and broom ?
Ben nişanlandım.
I

am engaged.
O benim nişanlım.

He/she is my fiancé

.
Düğün cumartesi günü saat 5'te.

The wedding is on saturday at 5pm.
Bana evlilik teklifi etti.

He made a marriage proposal.
Benimle evlenir misin ?

Will you marry me ?
"Evet" dedim.

I said "yes"
Gelinlik üstünde çok güzel duruyor.

The wedding dress looks good on you.
Bana çok güzel bir yüzük satın aldı.

He bought a very nice ring

for me.
Balayına Antalya'ya gittik.

We went to Antalya for the honeymoon.
Balayına nereye gittiniz ?

Where did you go to the honeymoon ?
Bu senin evlilik hediyen.

This is your wedding gift.
Düğün davetiyesini aldın mı?

Have you get the wedding invitation ?
Enjoy the Turkish weddings with covered phrases and vocabulary
For more vocabulary lessons, please visit Turkish vocabulary page.
For support and learning Turkish easily with colorful pages, you can buy the book for Turkish for beginners from the shop.
Vectors in this page designed by freepik www.freepik.com