Living Room – Turkish Vocabulary with Pronunciations
In this lesson we will learn common vocabulary relating to living room in Turkish. It is good to start with living room vocabulary for complete Turkish beginners.
Later you will find some sentences that cover the give words. You will see them how they are used in Turkish sentences.
You can also listen the pronunciation of the vocabulary
Living Room – Turkish Vocabulary
Oturma odası : Living room
Uzaktan kumanda : Remote control
Living Room – Turkish Phrases
In this section, you will find sentences that are related to living room with Turkish pronunciation.
Oturma odasındayım.

I am in the living room.
Odamda değilim.

I am not in my room.
Koltukta oturuyorum.

I am sitting on the couch.
Telefon masanın üzerinde.

Phone is on the table.
Şeker sehpanın üzerinde.

The sugar is on the coffee table.
Duvar ne renk ?

What color is the wall ?
Duvar beyaz renk.

The wall is white color.
Odan çok güzel.

Your room is so nice.
Oturma odası çok dağınık.

The living room is untidy.
Bu tablo kimin ?

Whose painting is this ?
Duvar saati bozuk.

The wall clock is broken.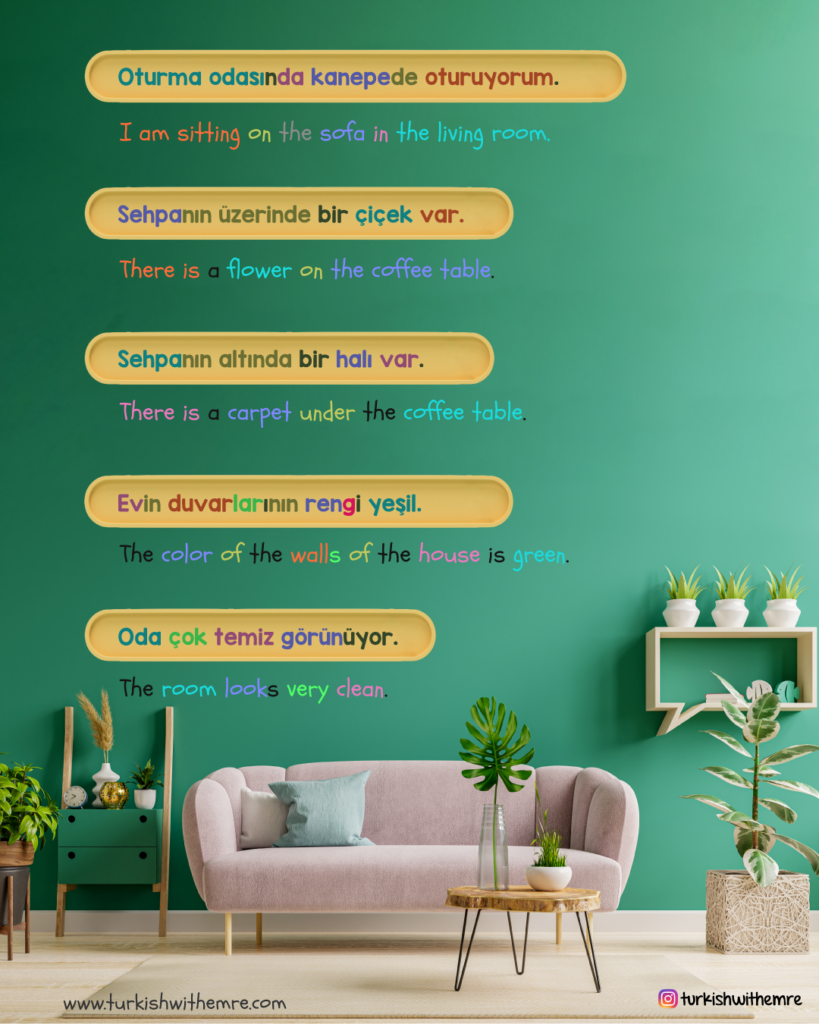 For more vocabulary lessons, please visit Turkish vocabulary page.
For support and learning Turkish easily with colorful pages, you can buy the book for Turkish for beginners from the shop.
Vectors in this page designed by freepik www.freepik.com