At the end of this lesson, you will be able to talk about food in Turkish. You will be able to describe your preferences about food and drinks. This will help you to start a conversation related with food. You will learn almost everything about food in daily usage.
Food vocabulary in Turkish
| | |
| --- | --- |
| Yemek | Food |
| İçecek | Drink |
| Tereyağı | Butter |
| Yoğurt | Yogurt |
| Zeytin | Olive |
| Sucuk | Turkish sausage |
| Reçel | Jam |
| Peynir | Cheese |
| Salata | Salad |
| Domates | Tomato |
| Patates kızartması | Fried potato |
| Yumurta | Egg |
| Ekmek | Bread |
| Meyve | Fruit |
| Meyve suyu | Fruit juice |
| Sebze | Vegetable |
| Süt | Milk |
| Kahve | Coffee |
| Şeker | Sugar |
| Un | Flour |
| Çorba | Soup |
| Çay | Tea |
| Makarna | Pasta |
| Bal | Honey |
| Su | Water |
| Tavuk | Chicken |
| Et | Meat |
| Tost | Toast |
Meals in Turkish
| | |
| --- | --- |
| Kahvaltı | Breakfast |
| Öğle yemeği | Lunch |
| Akşam yemeği | Dinner |
| Öğün | Meal |
Evde kahvaltı yapmıyorum.
I don't have a breakfast at home.
Öğle yemeğini okulda yiyoruz.
we have lunch at school.
Akşam yemeğini ailemle birlikte evde yiyorum.
I eat dinner at home with my family.
Günde 3 öğün yemek sağlıklıdır.
Eating 3 meals a day is healthy.
Kitchen Vocabulary
| | |
| --- | --- |
| Tabak | Plate |
| Bıçak | Knife |
| Çatal | Fork |
| | |
| --- | --- |
| Kaşık | Spoon |
| Su bardağı | Water glass |
| Çay kaşığı | Teaspoon |
Bana bir tabak getirir misin?
Can you bring me a plate?
Bıçak çok keskin. Dikkatli ol!
Knife is very sharp. Be careful!
Çatal yere düştü.
The fork fell to the ground.
Masada kaşık yok.
There is no spoon on the table.
Yemeğe bir çay kaşığı tuz ekledim.
I added a teaspoon of salt to the food.
Bardaktaki su kirli.
The water in the glass is dirty.
Talking about food in Turkish
En sevdiğin yemek nedir?
What is your favorite dish?
Benim en sevdiğim yemek sebzeli çorba.
My favorite soup is vegetable soup.
En sevdiğin içecek nedir?
What is your favorite drink?
Ülkende en meşhur yemek nedir?
What is the most famous dish in your country?
Ülkemde en meşhur yemek dönerdir.
Most famous dish in my country is Döner kebap.
Lahmacun denedin mi?
Have you tried Lahmacun?
Hayır, hiç yemedim.
No, ı have never eaten.
Evet, bayılırım.
Yes, ı love it.
Çay içmek ister misin?
Would you like to drink tea?
Şekersiz bir çay istiyorum.
I want a tea without sugar.
Şimdi istemiyorum. Biraz sonra içeceğim.
I do not want now. I'll drink a little later.
Buzdolabında hiç süt var mı?
Is there any milk in the fridge?
Buzdolabında sadece biraz süt var.
There is only a little milk in the fridge.
Benim en sevdiğim içecek Türk kahvesidir.
My favorite drink is Turkish coffee.
Bu yiyecek çok lezzetli.
This food is very delicious.
Bu yiyeceğin tadı çok farklı.
Taste of this dish is very different.
Bu yemek iğrenç kokuyor.
This food smells disgusting.
Bu yemeği hiç beğenmedim.
I did not like this dish at all.
İyi yemek pişirebilir misin?
Can you cook well?
Evet, ben makarna pişirebilirim.
Yes, ı can cook Pasta.
Ben vejeteryanım.
I am vegetarian.
Ben et yemem.
I don't eat meat.
Diyetteyim.
I am on diet.
Çok kilo aldım.
I gained a lot of weight.
Ekmek ve tatlı yemiyorum.
I don't eat bread and sweets.
Sağlıklı yiyecekler tüketiyorum.
I consume healthy foods.
Kola sağlıksız bir içecektir.
Cola is unhealthy beverage.
Breakfast vocabulary and phrases in Turkish
Sağlıksız besleniyorsun.
You are eating unhealthy
Genellikle saat kaçta kahvaltı yaparsın?
At what time do you usually have breakfast
Genellikle saat 9'da kahvaltı yaparım.
I usually have breakfast at 9 o'clock.
Sabahları hiçbir şey yiyemiyorum.
I can not eat anything in the morning.
Sabahları peynirli ve sebzeli yumurta yiyorum.
I eat eggs with cheese and vegetables in the morning.
Kahvaltıda her zaman şekersiz çay içerim.
I always drink tea without sugar for breakfast.
Günaydın hayatım. Sana kahvaltı hazırladım.
Good morning darling, ı have made you breakfast.
Bugün kahvaltıda ne yemek istersin?
What would you like to eat for breakfast today?
Masada yumurta ve ekmek yok.
There is no eggs and bread on the table.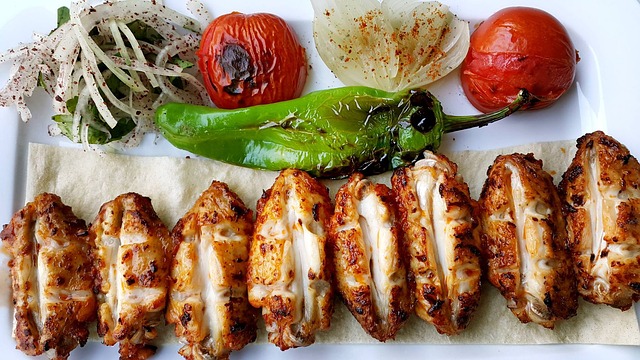 For more lessons, you can visit Turkish for beginners.
Learn Feelings and emotions in Turkish in Turkish language.
Vectors in this page created by freepik www.freepik.com