Learn the names of Colors in Turkish Language
In this post, we will learn the names of colors in Turkish language, how to ask the name of the color of something and asking someone's favorite color and describing which color you prefer for something.
For each color ı will give example sentences that will help you to see how Colors in Turkish language is used
Renk : Color
Colors in Turkish language
Siyah : Black
Siyah kediler kötü şans getirir. (It ıs an old belief in Turkey.)
Black cats bring bad luck.
Beyaz : White
Beyaz bir gelinlik giymek hayalim.
To wear a white wedding dress is my dream
Kırmızı : Red
Kırmızı tutkunun rengidir.
Red is the color of passion
Kahverengi : Brown
Kahverengi bir ayakkabı istiyorum.
I want a brown shoes.
Yeşil : Green
Yeşil ışıkta geçebilirsiniz.
You can go through the green light.
Turuncu : Orange
O turuncu bir elbise giyiyor.
She is wearing an orange dress.
Mor: Purple
Mor renkli bir şey istiyorum.
I want something purple.
Sarı : Yellow
Sarı saçların harika görünüyor.
Your blonde hair looks great.
Mavi: Blue
Sarı saçların ve mavi gözlerin var.
You have blonde hair and blue eyes
Pembe : Pink
Kızlar pembe rengi sever.
Girls love the color pink.
Gri: Grey
Gri rengi hiç sevmem.
I don't like the color gray.
Turkuaz: Pink
Turkuaz renginin diğer bir adı Türk mavisidir.
Another name for turquoise color is Turkish blue.
Kızıl: Red
Kızıl saç sana çok yakışmış.
Red hair looks great on you.
How to ask questions about Colors in Turkish
In our daily life we use a lot the colors. It would be great to ask questions by using colors in your conversations.
Bunun rengi nedir?
What color is this?
Hangi rengi seversin ?
What color do you like ?
Hangi rengi tercih edersin ?
Which color do you prefer?
Bunun rengi beyazdır.
Its color is white.
Hangi rengi satın almak istersin?
Which color would you like to buy?
Bu sarı şey nedir?
What is this yellow thing?
Pembe rengi sever misin ?
Do you like the pink color?
Yeşil tercih eder misin?
Do you prefer green?
Bunun pembesi var mı?
Do you have the ping color of this one?
Talking about colors in Turkish
when you learn the names of Colors in Turkish, ıt would be also useful to see how Turks use them in the sentence.
Mavi rengi severim.
I love blue color
En sevdiğim renk yeşildir.
My favorite color is green.
Siyah rengi hiç sevmem.
I don't like the color black.
Gözlerim kahverengidir.
My eyes are brown.
Saçlarım siyah renktir.
My hair is black color.
Koyu renkleri sevmiyorum.
I don't like dark colors.
Bana mavi yakışıyor.
Blue looks great on me.
Beyaz renk sana yakışıyor.
White color looks good on you.
Açık renkleri tercih ederim.
I prefer light colors.
Koyu mavi elbise sana çok yakışmış.
Dark blue dress looks wonderful on you.
Sarı ile mavi birbirine uyumlu.
Yellow and blue go well together.
Kırmızı ayakkabı sana çok yakıştı.
The red shoes look great on you.
Mor sana hiç yakışmadı.
Purple doesn't look good on you at all.
Sarı bu saç rengiyle çok harika görünüyor.
Yellow look so wonderful with this hair color.
Exercises related with Colors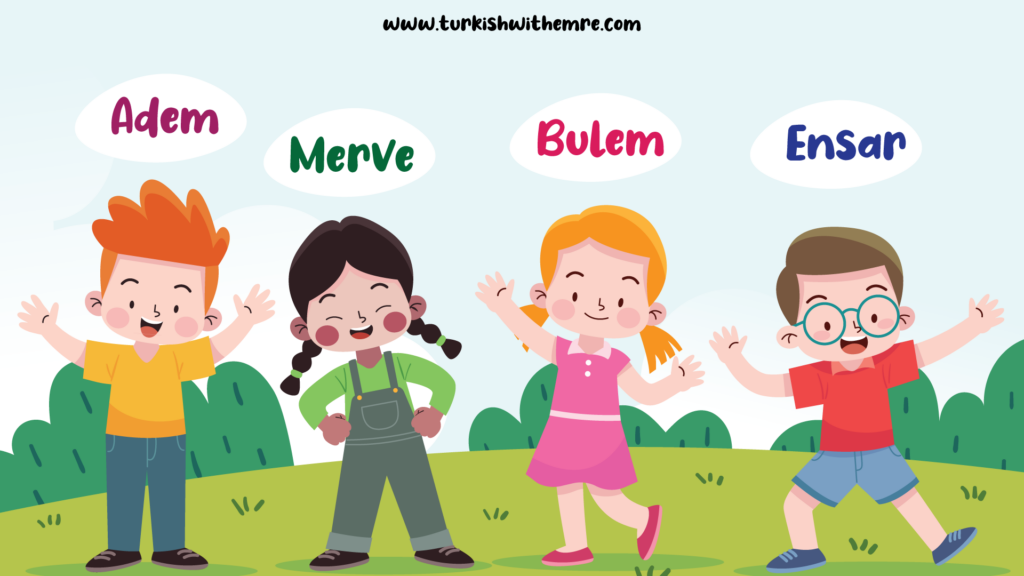 [qsm quiz=6]
We are at the end of the lesson of Learn the names of Colors in Turkish. I hope you enjoyed and learnt a lot. You can ask your questions on the comment section.
Design vector created by pikisuperstar and freepik – www.freepik.com